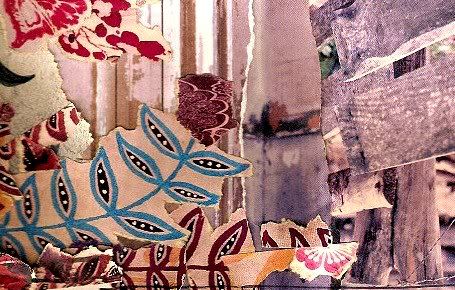 *a slice of birth art from when luc was born to me*
"i began these pages for myself, in order to think out my own particular pattern of living, my own individual balance of life, work and human relationships. and since i think best with a pencil in my hand, i started naturally to write...but as i went on writing and simultaneously talking with other women, young and old, with different lives and experiences - those who supported themselves, those who wished careers, those who were hard-working housewives and mothers, and those with more at ease - i found that my point of view was not unique. in varying settings and under different forms, i discovered that many women, and men too, were grappling with essentially the same questions as i, and were hungry to discuss and argue and hammer out possible answers. even those whose lives had appeared to be ticking imperturbably... were often trying, like me, to evolve another rhythm with more creative pauses in it... and so gradually, these chapters, fed by conversations...from men and women of all groups, became more than my individual story... here with my warm feelings of gratitude and companionship for those working along the same lines, i return my gift from the sea..."
-excerpts from
gift from the sea
by anne morrow lindbergh
one year ago tonight, exactly on the dot, this blog-life of mine was born. it was my resolution. to document my life/thoughts and the minutes of my super growing lucas boy. to have it all safely in one place. for one year. atleast. i wasn't quite sure what i would say or who besides me would even read it.
as i read back through my first year of
blog
and read through the comments that i have so graciously collected. my heart expands to huge.
it is hard to believe the change that has happened in one minute of a year. not only to me and my family... but yours as well. i've met some dear dear friends. some of you that i've never seen your faces or heard your voices... but hold giant pockets in my heart just
for you
. i've found long lost heart connections that have found a new place in me and we've reinvented what we knew as friendship before. i have revelled in the understanding that radiates through these pages and pages and blogs and blogs of you who have been there before and seen what i've seen. love what i love and appreciate and notice the secret small parts in this crazy big world that would otherwise have gone unoticed. a collection of women just like me.
i
read
your words like you read mine. my mind is racing with possiblities and ideas that you have inspired me with. i find strength in the way you write, create, nuture your children, grieve and love. you are rich with friendship and open hearts.
as i scan through this collection of words and pictures and moments captured of this passed year, i am amazed at my own journey. from then until now. the way
i
have mothered and loved. how lucas has grown into his self and how i've gone from nursing babe to chasing boy. to find ourselves settled sweetly into this new house full of love and safe joy. our first holiday here. new adventures... and wonder what will become of us a year to the day from now.
thank you again and again for reading me. for giving me this safe place to purge my thoughts and ideas. thank you again and again for writing your own words.
just as they come out
. for the chain of friendship that expands with each click.click.click. of our keyboards. this is bigger than all of us.
happy
first
birthday, run lucas run! for my blog birthday present, i'd like to know which post of any blog... anywhere... inspired you most. one that you remember and have tucked away safely. be sure and include the web url with your comment so that we can share in your inspiration. birthdays call for presents... so for each comment on this post from now until
**January 11th**
, my little family will pick someone to receive a special package of lindsay goodies. a box full of things i love. a book, a bag, a cd maybe... i'm not quite sure yet...
but it will be lovely
.
goodnight loves, lindsay