i'm listening to sarah mclachlan sing her version of the beatles "blackbird". it's lovely. a great lullaby. a great song to add to my j-girl's birth cd. i was supposed to get it in the mail and on it's way across alot of states to her on monday. i'm late. but i'm all cuddled up to each of the songs and it will be on it's way shortly. tomorrow-shortly. i found the cd i made for her when her noah boy was soon to make his arrival. two plus years ago. i've pulled alot of those songs and added a bunch of new ones to the mix. it's delish. music to birth babes by. i was meticulous in picking my songs for lucas's birth. it took me months. adding and deleting songs until it was perfect, according to my crazy-nesting-mama-bird-self. i made extra copies of and was sure that everyone that would be attending my birth knew exactly where to find it on my computer if by some chance a cd went missing... only to go on a crazy-nesting-mama-bird hunt for a certain bob marley greatest hits album just days before luc made his actual debut.
birth. what a word. my life has been encircled by five incredible "birthing" women the past few weeks. five incredible momma birds that i can't get out of my mind.
miss j called a few weeks back looking for someone to share the sweet passion and empowerment she had felt after attending birth class. i felt my heart tug as we talked about what an overwhelming responsibilty we have to safely get our babes into the world. and in a few moments of excitedly talking of midwives and birth tubs and her soon-to-be-lucky-baby we validated eachothers not so crazy momma bird thoughts. i will wait patiently to hear of his arrival. his story. and love her for believing that her babe will be born exactly the way that he needs to be.
my sweet amanda. so excited to share the news of a very much anticipated and long awaited for... positive pregnancy test. she shared her sweet words and thoughts at seeing the itty-bitty dot of truth on the ultrasound screen to validate all of us girls' shared excitement. days later we learned that her six week old little bean had changed it's mind. my heart broke for her as she had to go through all the harsh motions of losing something so tiny... yet she already loved so much. her momma strength to continue to take care of her other boys and keep on keepin' on despite her broken heart amazed me. she's amazed me before... such a tough cookie. she's been known to birth a certain 10 pound cooper-dude without an epidural! and i know that another sweet baby spirit will fill her safe momma belly so very soon.
my own momma is a midwife. she leaves in the middle of the night and sometimes comes home days later. she listens to heart beats, measures bellies, holds hands, and just plain listens to her "ladies". i've always admired that she's found her true passion and is so good at what she does. i was so thankful to have her so close to my own heart/life/belly when i was pregnant with lucas. i knew very early on that i was capable of birthing
my
babe. the empowerment she instilled in me and my sweet andrey saved my life when our homebirth went a bit (a
big
bit) off track. it's healed my heartache at the fact that things didn't go as "planned." and that i'm not sure how they'll go the next time around.
i went to a prenatal with her a few weeks ago and met sweet sarah. sweet beautiful sarah. belly full of baby. her home was so dreamy. everything i could ever wish for. her baby was on it's way. i listened to my mom tell her anxious mama bird heart "any day now." i watched at home as my mom gathered up her supplies, went to bed early so she'd be well rested, checked on sarah daily, and prepared her spirit to help guide miss sarah through
her
babes birth story. i woke up a few days back and the house was still and quiet and mom's car was gone. i sent every bit of birth energy i had out into the world and hoped it made its way to sarah's pretty little birth space. desmond grey was born that morning. every perfect tiny inch of her.
jen at
beebee mod
sent out a call of love a few weeks back. she introduced me to miss kate. kate. my eyes filling with water as i type her name. this incredible-solid-woman-peace comes out of each letter of her name. k-a-t-e. i stayed up all night reading her words. all the way back from before she had her evan. i read her story all the way through to liam and ben. jen asked us crafty ladies to put together some handmade goods to send off to kate and family to lift their spirits and haul them through their journey. i couldn't stop thinking about her for days. i got right to work sewing up some little toy bags to send her boys. matching polka dots. sewed their letters on the front. E for Evan. B for Ben. L for Liam. i had put lucas to bed and took a quick breather from sewing the bags to come upstairs and do my blog reading. i clicked over to
sweet/salty
to check on kate and read
the
words. he was gone. little liam. oh little liam. her words so powerful. i tip-toed back downstairs and thought of her sweet boy, tears streaming down my face as i carefully sewed the L on his bag. my heart aching for this woman i'd never met. this boy i feel like i know so well. her latest post about being a birth warrior. sums up everything. "The words have a new shape now, rounded up to this. Birth: to see them safe. Warrior: to match them in bravery." she has amazed me and healed me with her words. i feel like i have no words to offer her heart. yet i can't seem to read enough of
her
healing words. i will take little liam with me everywhere.
five incredible women that have encircled me, this month of june. five incredible momma birds that i can't get out of my mind.
what a calling us women have been given.
a photographer went with my momma to miss sarah's birth. i wanted to share the slideshow with you, my loves...because it is so beautiful. the
post
for june 23rd has a link to the photos. enjoy them.
tell me your birth stories.
yesterday a little brown box arrived on my doorstep from the land of j-girl. filled with yummy treats and packed up in the prettiest little boxes i've ever laid my eyes on. my heart was so happy to be on the receiving end of something so lovely.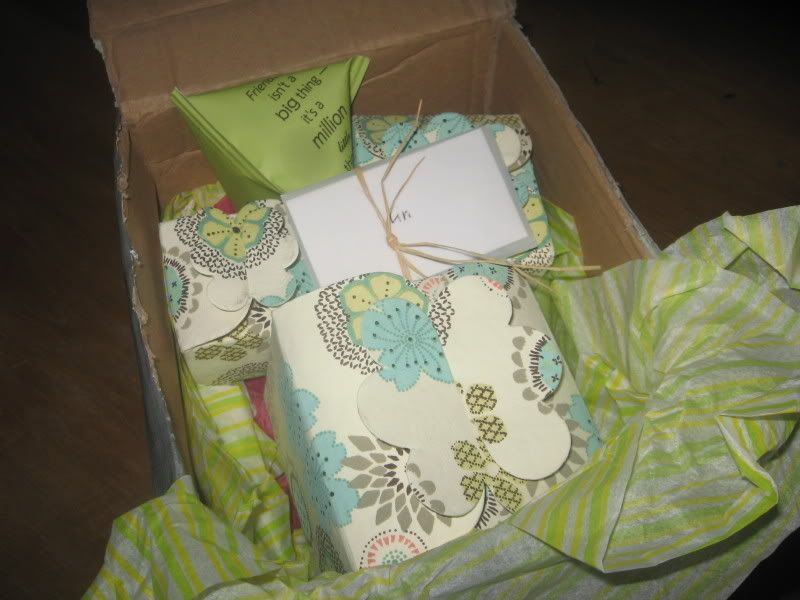 i wish you all something just a special in your mailboxes today. from someone who loves you. from one of
your
kite strings. and if it doesn't... i'm sending out "comment treats" to everyone who comments on this post before i post again so you'll know that
i
was thinking of
you
. comment away!
love, lin