this is what i found when i went to climb in my bed last night:
-
The Mister
wrapped up in ALL of our covers
-
Mister Junior
lying horizontal across the top of the bed. feets on
The Mister's
belly.
this is what i did:
snuck my red plaid blanket out from under the mister and tip-toed to the couch.
+++
i've been collecting my favorite images from some of my daily internet visits. inspiration to get lucas's room done. i've got quite a little gathering in my file folder marked "operation this-kid-needs-his-own bed." i had decided to break down this overwhelming house decor chore into rooms. and his will be the first.
i can't believe this has become a chore.
for years i have waited and waited for my own little box of a house to paint and fancy up. now that it's here the huge-ness of the project has caused the whole thing to come to a grinding halt. ending today. today, i will buy paint. today we will buy lumber. today this adventure begins.
i've weeded through the images and come up with this little bundle of inspiration: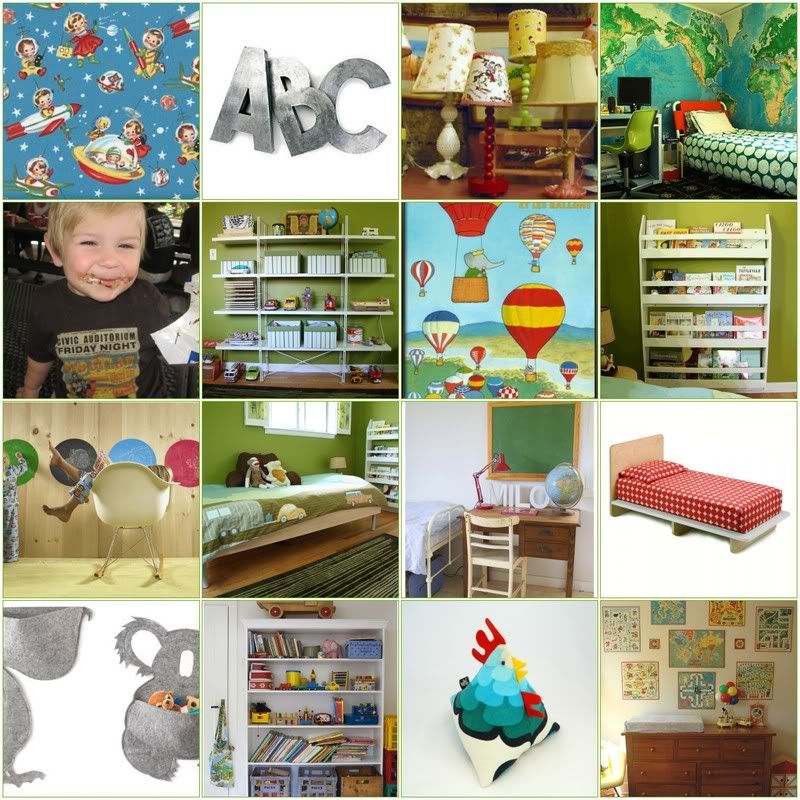 1.
rocket kids fabric
(for quilt squares/a pillow?/toy bags)
2. huuuuuge metal
alphabet
3. a fun lamp or two. this inspiration comes from
ABC carpet and home
4. i love the idea of a map for wallpaper.
this
room screams adventure.
5. mister lucas jude himself. the bob dylan tee helps, too.
6. i love
oscar's room
. the paint color is perfect.
7.
babar poster
8. oscar's room, again. i've seen quite a few of these bookshelves around. children's book's alone are works of art and this is a great way to display some of our favorites.
9. i love, love, love the idea of this eames rocker. and the
chalk board dots
are pretty smart, too.
10. oscar again. this is one lucky kid.
11. i have a small obsession with antique globes right now. if you happen to come across one in real life... snatch it up for me. i love the old school chalk board here. and the vintage desk.
12.
the kip bed.
i've been drooling over this since luc was just a bean in my belly. andrey is going to attempt to build a knock off for us.
13. i love the idea of these
wool felt pouches
by jennifer gibbs
14. i hate that i didn't save the link for this photo. a great collection of classic books and toys on display
15. what little boy doesn't wish for a
chicken
door stop?
16. the
great wall
of classic board games. think of this and me while you're out thrifting...
it's a bit of a mish-mosh of styles. but i love it. i love the colors and the imagination it all sparks. i think "boy" will love it, too.
any other good ideas?