usually to find a title verse for my posts i write the post first and then see what song is the first to pop into my head that relates. tonight was a bit different. i left luc at home with andrey so that i could sneak away and visit angie and her new little one. i zipped through salt lake traffic feeling a bit disheveled from sneaking off in such a hurry and a day of chasing/catching my lucas boy. i slipped into naartjie to pick up a sweet little girl outfit (because i love to come bearing gifts) and in all of my manic bought a shirt and a pair of pants in two different sizes...zipped back into traffic, got a little lost, quickly tried to put myself together in the car before venturing into the hospital to find the elevator.
i knocked on the door and then walked into a room that was filled with such happy peace. the
birth
of a family. the coolest thing in all the world. there she was...sweet little clara. calm as could be on her daddy's shoulder. oh! the wonder of her! such a perfect little thing. i wonder what she was dreaming of. i sat to visit for a minute and even got to cuddle with angie's
very own
for a second. i got to study her sweet little ears, tiny hands, perfect little baby lips. such proud happy parents!
i walked back to my car a bit slower than i had come in and climbed back in and back on with my night. home to my boy and his papa. he looked so big! we went upstairs for a nurse. he kept giggling while he ate. so happy to see me,
his
very own! i studied his out of control hair, his owies from being so adventurous, his chubby leggies that can't hold still, my baby who is not looking so much like a baby anymore! i told him the story of how much we wanted him and how long we'd waited for him. the story of the day he was born to us. i had mourned the "birth i'd planned to have" for so long that as i told him the story of what
did
happen... it took on this whole new life of it's own. this beautiful story of how my baby came to be my
very own.
the birth of
our
family. the way andrey looked at me, the way he held his boy. the way lucas smelled. the first time we said his name to him, the sweet relief in his safe arrival, my own momma's hand, the overwhelming peace that night when i looked in my baby's eyes and wondered the stories that he could tell if only he could tell them. the reality of something far bigger than me having a hand in all of this. the circle game. i'm so thankful for the 10 minutes i spent with angie, scott and little clara today. that it led me to a
new
story. so... tonight i was planning on just posting a pic of the new babe and write a congratulations. so i sat down with my cd cases to pick the perfect lyric for giving birth, a newborn, a lullaby. but in my search my heart was so full and i kept picking song after song that i loved...pretty soon it became a song list instead of just a lyric and in the end the title of my blog is "the three of us" by ben harper and it doesn't even have any words...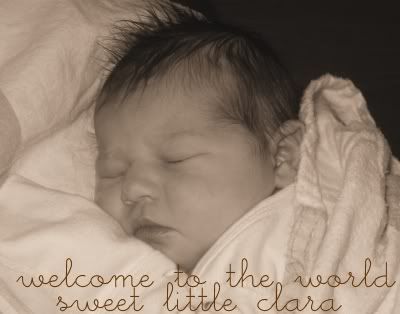 song list for sleepy babies:
hold you in my arms -ray lamontagne
wild horses -the sundays
by your side -sade
wonderwall -ryan adams
do you realize -flaming lips
maybe i'm amazed -jem
new slang -the shins
gravity rides everything -modest mouse
world spins madly on -the weepies
case of you -joni mitchell
a lack of color -death cab
green apples -chatel kreviazuk
this must be the place - shawn colvin
little wing -neil young
blackbird -sarah mclachlan
sweet baby james -james taylor
such great heights -iron and wine
baby -dave mathews
ooh child -beth orton
the sea -morcheeba
pink moon -nick drake
quiet time -k's choice
in the sun -michael stipe & coldplay
butterfly -donovan frankenreiter
from here to can see the sea -david gray
ode to my family -the cranberries
the sweetest gift -sade
at my most beautiful -R.E.M.
you still believe in me -m. ward
desire -ryan adams
tough choice, huh. goodnight loves, lin